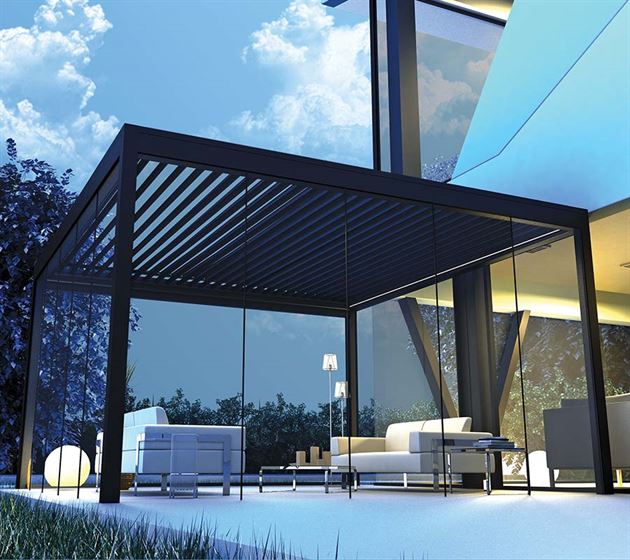 HABITAT LLAZA
Since 1964 LLAZA innovates and develops solutions for outdoor sun protection. Its position in the market is widely recognized for its specialization in high-technology cassette awnings and mostly for a fundamental element: articulated arms. Nevertheless, the company is always moving forward be in line with the new trends.
The evolution of societies leads to changes in the ways of life. These changes are reflected in the design of buildings, in now much time we spend abroad, in achieving greater energy efficiency, etc.
The new HABITAT LLAZA range of pergolas responds to a growing demand for products to enjoy outdoor spaces, while feeling protected against weather conditions.
HABITAT LLAZA is made up of a selection of products, with different applications, responding to the needs of the exteriors of homes or commercial buildings.
This wide range of solutions is available in 15 colours and a wide variety of fabrics for covers and perimeter enclosures. These possibilities constitute a great advantage to achieve the perfect architectural integration.
Bioclimatic pergolas
The folding roofs of aluminium panels are comfortably motor operated. These pergolas are the perfect solution to achieve, at all times, the ideal balance between protection and ventilation.
• Majestic: Apart from the foldingaluminium panels, it includes transparent panels made of polycarbonate and methacrylate. These transparent panels give clarity both day and night, since they can incorporate LED lighting. Majestic reaches maximum dimensions of 5 × 5 meters in a single module, being able combine different shapes to cover larger areas.
• Majestic Lux: It is a pergola with folding and retractable panels. It reaches near 7 meters of projection and 4 m. of width. When the panels are fully retracted, the open space reaches 79% .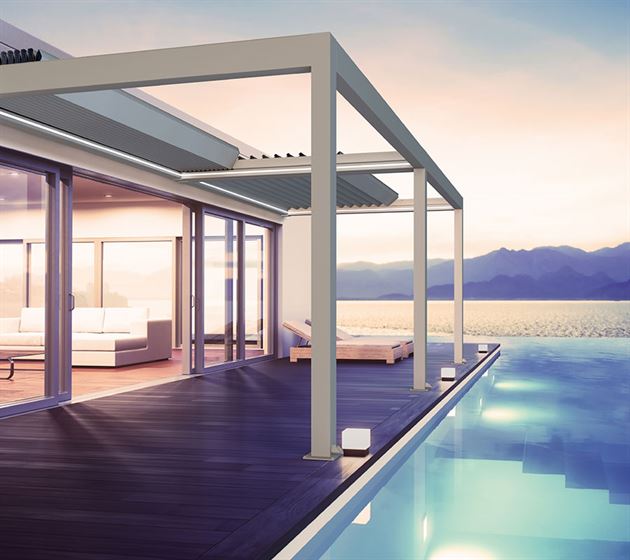 Both Majestic and Majestic Lux stand out for their aesthetics, pure and straight lines, which transmits elegance and security. Its solidity provides high resistance to wind, rain and snow load.
The thickness of the columns and beams allows to create large structures with different modules to achieve different shapes and cover large spaces.
The excellent water circulation and the collection system makes it possible for the roof to be completely flat preventing water from entering the interior. No need of inclination.
Tensed pergolas
The profiles and pieces that make up these structures are very strong to protect against adverse weather conditions, no matter day or night, 365 days a year.
The cover is retractable and it is available in various possibilities of colors and finishes. The cover is complemented by lighting systems that provide a more pleasant and warm feeling to the room.
These structures can be fixed front-wall, self-supporting or between-walls. They are an ideal solution to expand spaces or add useful meters to a home.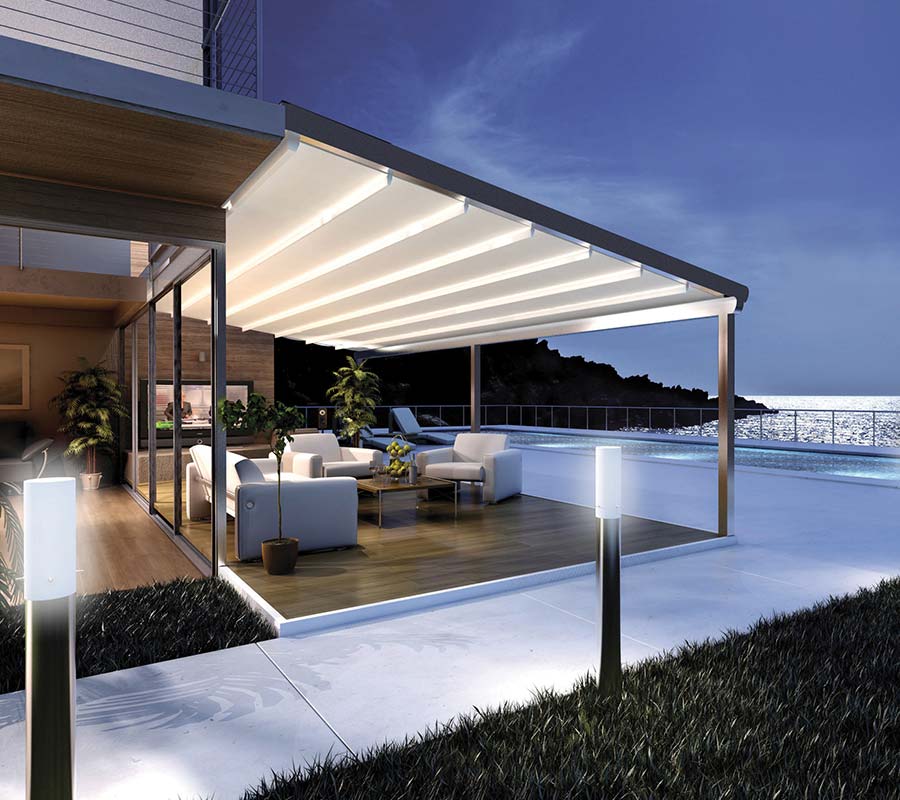 • Atika Series: Straight pergola with a sloping ceiling. Possibility to install on a wall or independently. Two models, Atika 150 and Atica 120, they are ideal for applications both in private homes or in large restaurant businesses.
• Magna Series: Gabled pergola with two variants: Magna 150 and Magna 120. It reaches dimensions of 13 meters of width by 14 meters of projection. They are the ideal place to organize celebrations and events.
• Inka: It is a retractable straight roof that is adaptable to existing structures for sun protection purposes.
• Arch Series: Spectacular structure of curved lines that reaches up to 13 meters of width and 14 meters of projection. Both in the Arch 150 and Arch 120 models it offers single or double slope.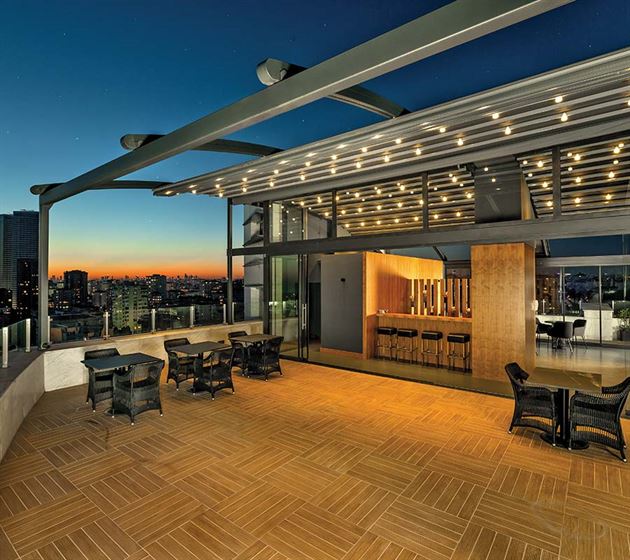 Perimeter enclosures
The perimeter enclosures range incorporates vertical and horizontal closures to separeate space, provide greater privacy and protect from wind and rain.
The verticals awnings are light, easy to install and inexpensive. They provide a great performance and resistance.
– ZIP systems
– 120mm windproof guide
– Cable or Rod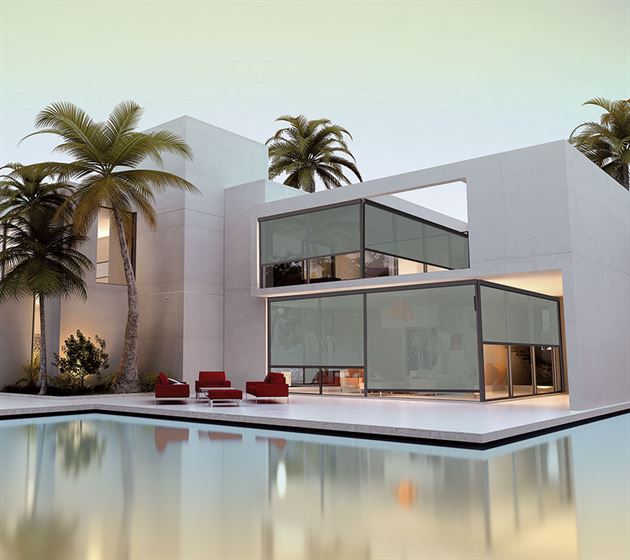 • Folding and sliding glass enclosures: They are made of tempered glass. Folding version can reach up to 5 meters. Sliding version can reach up to 12 meters with. Their mechanisms are high resistant. Their quality assures the sliding and fastening of the glass sheets at all points of their path. They adapt to all systems of pergolas to protect from the cold, wind and rain without giving up the views to the outside world.
Roof systems
Being indoors generates a feeling of security and privacy. People love to enjoy the outdoor spaces and also the sunlight. We love the feeling of being protected and having everything under control. Transparent glass or fabric roof, both of them protect us from the discomforts that open spaces sometimes have. This positive experience is possible thanks to two products that HABITAT LLAZA incorporates in its selection of roofs:
• Verastor-Sky. This is a conservatory awning of spectacular dimensions: 14 meters of width and 7 m. of projection. That is possible when it is installed on a structure formed by 6 guides. These guides can carry LED lighting. The intermediate profile can also incorporate lighting. The powerful gas pistons and the locking system apply tension on the canvas to keep it taut and avoid water pockets. This system has fast anchorages and fixings both for installation on structure or between walls.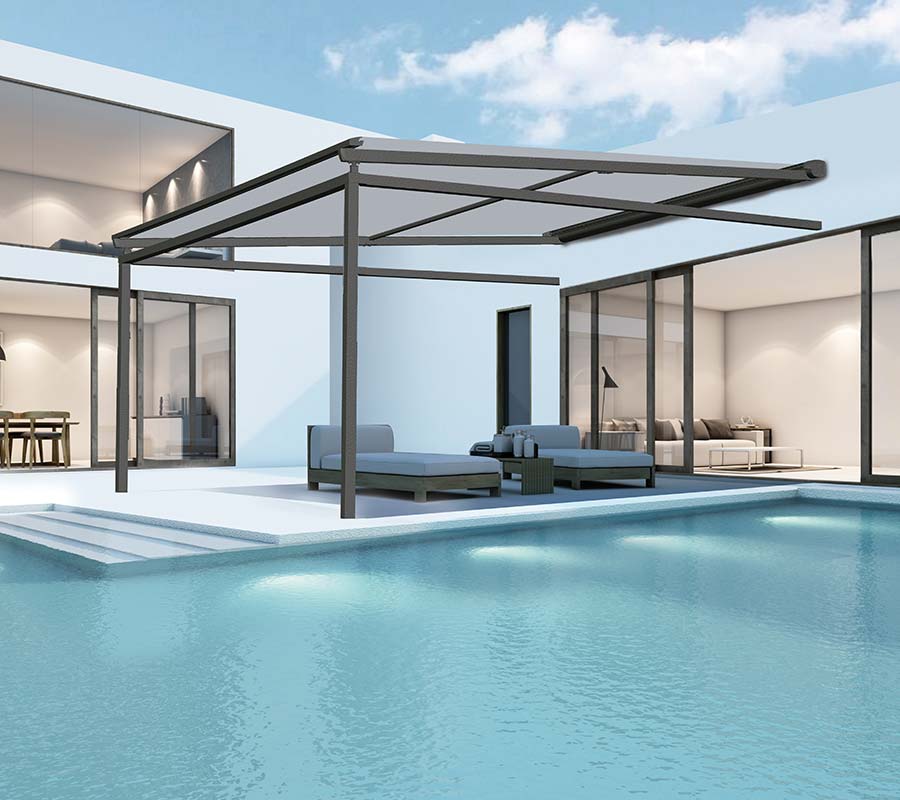 • Tupak glass roof. This is a new concept of roof without profiles. It has its own support structure with pillars and a water evacuation system. It is easy and safe to install as it is mounted from below. The sliding of the roof is carried out by bearings to obtain maximum safety. It allows the installation of side glass curtains, which are integrated into the beam without the need for drilling. Its appearance is very clean since it hides the screws and motors with aluminium trims and covers. In its motorized version, it can acquire dimensions of up to 9.50 meters with polycarbonate sliding material, or 7 meters with glass.
HABITAT LLAZA offers the best solutions for outdoor spaces with the most innovative designs and greatest comfort. This range is made up of a careful selection of bioclimatic pergolas, tensed pergolas, perimeter enclosures and roof systems. The diversity of HABITAT LLAZA designs guarantees the ideal protection system for every need.